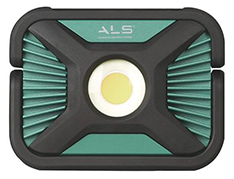 Guidelines For Buying an LED Work Light
September 29, 2022
If you're in the market for an LED work light for your business or simply need a heavy-duty light at home, make sure to follow these guidelines when you're shopping.
Why Buy an LED Work Light?
With LED technology rapidly advancing every year, designs are more innovative and affordable than ever. LED work lights are now designed for specific industries, and applications not possible before.
What You Need to Know
LED lights are more cost effective and energy efficient than incandescent, fluorescent or halogen bulbs. LEDs use 90% less energy than incandescent lights, and they produce almost no heat.
LED lighting is durable. There are no delicate parts that can break meaning you can use LEDs in some tough environments.
LEDs have a long life span. Many can even last up to 100,000 hours of continuous use.
Lumens
Because LEDs are so energy efficient, their brightness is measured in lumens instead of watts. The chart below will give you a better idea of how incandescent lights (the way we're used to measuring brightness) compare to LEDs.
Incandescent LED (lumen output) LED (watt range)
100 watt 1600 lumen 23-30
75 watt 1100 lumen 18-25
60 watt 800 lumen 13-15
40 watt 450 lumen 9-13


Features to Look For
Brightness & Adjustability
If you need a light source with different brightness levels, look for work lights with selectable lumen output settings. For example, a light may feature two different lumen output settings where when you push the power button, it will start at 800 lumen and then when you hit the power button again, it goes to 1,000 lumen.
Because you can adjust LED brightness, look for work lights with a wide range of brightness settings i.e. 2000 lumen to 10,000 lumen. This way you can set the proper amount of brightness on the light depending on the work environment.
Power Source - Corded or Cordless
LEDs can work on both AC and DC power. As a result, many LED work lights are cordless and use a rechargeable battery for the power supply. Cordless LED lights are generally smaller, lighter and easy to transport.
Look for rechargeable LED work lights that use a Lithium Polymer Ion battery (Li-Poly) versus a Lithium Ion battery (Li-Ion). Li-Poly Ion batteries will provide a longer battery life and are comparatively much safer than a Li-Ion battery.
Some LED work lights offer both a corded AC power option and a rechargeable option. These options are usually found on LEDs with higher lumen output (8,000+) and provide continuous power but still offers the flexibility of a portable light when an AC source is not available.
Waterproof, Water-resistant and Dustproof (IP Rating)
When choosing an LED work light, consider the environment you'll use it in. Dust and water are typically the two common elements causing damage to electrical equipment, so look for waterproof, water-resistant and dustproof features. Waterproof and dustproof don't always mean the same thing for all devices, so look for the light's Ingress Protection Rating, or IP rating. For example, an LED work light with an IP67 rating means it's fully protected from dust and can withstand submersion in about 3.3 feet of water for up to 30 minutes. Whereas a light with a lower rating, like IP65, means it's protected from dust and against lower pressure water environments, like a spray from a nozzle.
Other Features and Options
Don't forget to consider these other features and options:
A magnetic base is an option many people in different industries like. A mechanic may find a magnetic base useful so they can attach the light to a car frame or under the hood.
A power bank provides the option of charging other devices, like a cell phone.
Bluetooth speakers are now an option with some work lights allowing you to stream music while illuminating the work area.
Accessories like tripods and stands allow you to mount your work light at different heights to illuminate a larger area.
A battery level indicator shows the charge level of the battery, so you know when to conserve power, and when to charge it.
Ready to start looking at lighting options? Check out our ALS work lights here.